Regular price
Sale price
$35.00 USD
Unit price
per
Sale
Sold out
"Russian Warship Go F*ck Yourself"
With those words, 12 young soldiers sealed their fate and showed the world that Ukraine was not going to disappear under a tyrant's boots.
And when Pravda Brewery saw their country being invaded, they stopped brewing beer and started making Molotov cocktails. On each bottle they added this label you hold in your hands. A label that shouts their defiance before the wick is even lit.
With the permission and encouragement of Pravda Brewery, we created this vodka to support the people of Ukraine in their struggle. Proceeds from the sale of this bottle go to well vetted charities that serve victims and refugees of this senseless aggression.
For the people of Ukraine the struggle continues. Support them today directly through our charitable partner, Booze without Borders a registered 501c3 charitable foundation that connects good booze with good causes. Proceeds from sales go to vetted charities. Visit RussianWarshipGoFuckYourselfVodka.com to learn more.

Proceeds from the sale of this product go to:
The Ukrainian Red Cross
https://redcross.org.ua/en/
World Central Kitchen
https://wck.org/
Many people contributed to making this possible:
The entire team at Mammoth Distilling for making an amazing product. www.mammothdistilling.com
Legal work provided by Robert Lerman and Frank Knizner at Lehrman (Beverage Law (https://bevlaw.com/)
Bottle sourcing by the team at Brick Packaging (https://www.brickpackaging.com)
Graphic Design provided by Collin Goddard.
The team at Kolossos Printing for expediting the labels (https://www.kolossosprinting.com)
View full details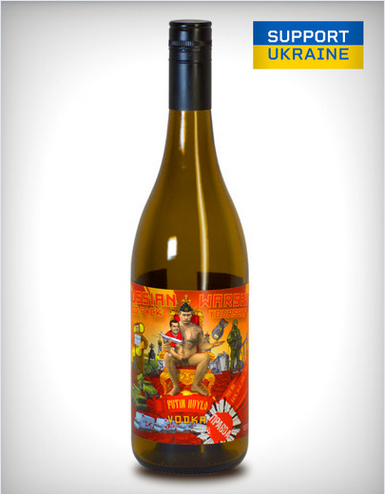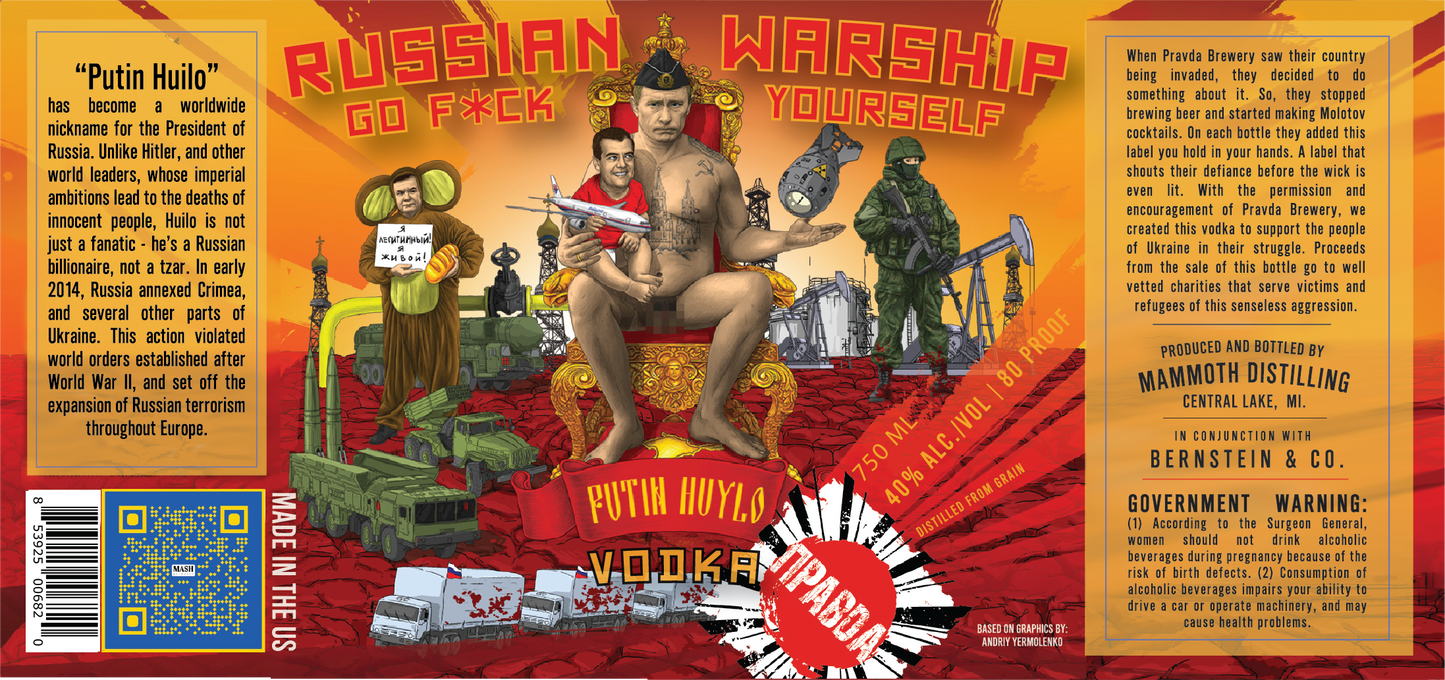 Shipping Details

- The estimated shipping time for alcohol orders is 3-15 business days. Orders will be fulfilled and shipped within 2-5 business days after an order is placed unless one of the conditions below applies.

- We cannot deliver to any PO box addresses. If you complete an alcohol purchase with a PO box address, somebody will contact you for a different shipping address.

- Someone 21 years of age or older must be available to sign for any alcohol orders. Packages containing alcohol will not be left on doorsteps.

- We cannot ship to FedEx or Walgreens as they will not accept other local carriers' packages.

- We do not offer refunds if your alcohol order is returned to us. We feel that three attempted deliveries are ample opportunity to take delivery. We are charged an additional $20 for all returned packages that are not delivered after three attempts and another $20 if we want to attempt delivery again. Therefore, we cannot offer refunds on account of this unless you are willing to pay the extra $40 worth of charges. Of course, we will offer refunds or replacements for any products that are damaged or below satisfaction.
---
Choosing a selection results in a full page refresh.